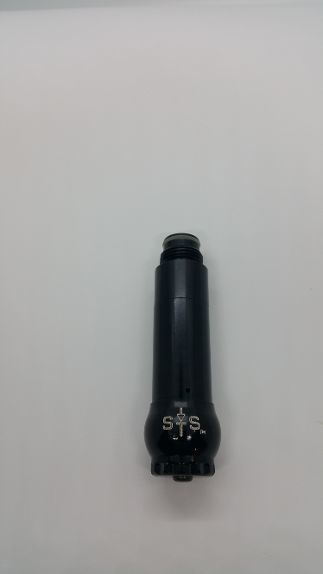 SST Regulator
Sorry temporarily out of stock.
SOLID STOP TECHNOLOGY The SST™ regulator is the newest development in regulator design. Most regulators are not consistent under extreme use. The reason for this is that most have soft seats and therefore the sealing surface is always at a different location (height). The SST™, at rest, seals on a small hard o-ring that can be crushed only a small amount before the seat holder contacts a hard surface (solid stop). In-house testing shows the SST™ delivers air efficiently and directly because of its smooth route from the inlet on the swivel to the hole in the piston. Therefore, when shooting paint, the consistency is excellent.
Short SST is 3" long, the Medium SST is 3.5" long and the Long SST is 4" long. All SST and Sidewinder tops are interchangeable. Standard ASA threads to marker and 1/8 NPT thread for air fitting. Output 0-400 PSI.